My work explores tension, paradox, and the human condition.
In this piece I'm exploring the tension of extending the self through social media while chronically ill. The necessity, the limitations, and the beauty. In this piece I utilize the same dimensions of the bed I've slept in since getting a traumatic brain injury and the onset of Lyme Disease taking over.
On one side of the installation, I explore what my social media presence has felt like throughout illness – the tension and confusion of being bed ridden and becoming limited to social media as my main source of connection.
I've chosen to represent the social media posts through warped yet beautiful shapes, representing the skewed and chaotic digestion of posts yet also the crucial space social media has had throughout my illness. It is a place to share, to connect to communities of support, and yet is a constant reminder of the life you are not living and a feeling of drowning and loneliness. This side represents this complexity of haunting futility, unrequited longing, and empty eroticism coupled with the immense power of social media during times of isolation.
Image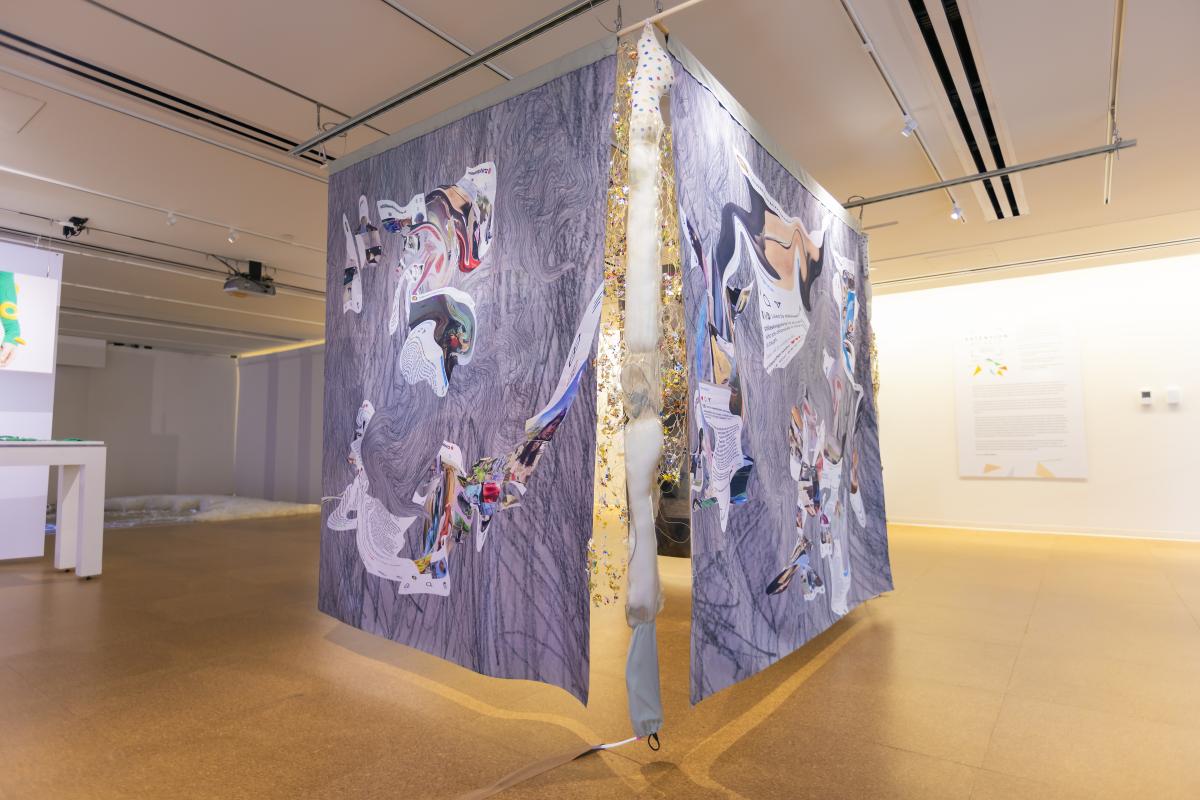 Image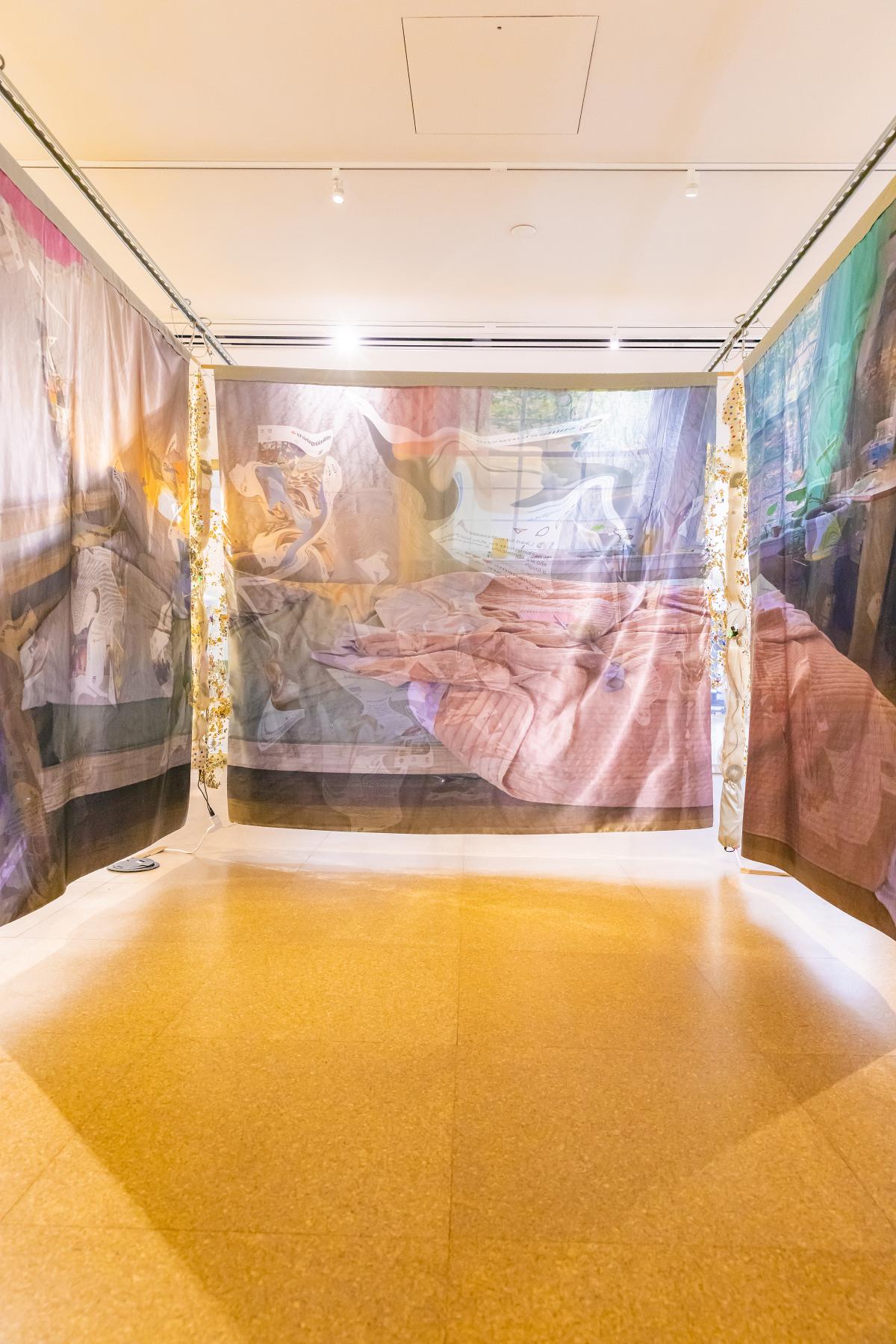 On the other side of the installation, the viewer steps into an image of my bed and hears the thoughts, feelings and storylines that have woven themselves through my journey of illness.
This side of the piece represents how I longed to share while bedridden and includes voice memos and journal excerpts from that time. On this side the messages are also confusing because life is confusing, illness and loss are confusing, communication from one body to another is confusing. But the stories have space to breathe without the option to scroll. The viewer gets to slow down with my voice and have space for the stories.
The whole piece is created on a singular cloth, with images from one side detectable from the other, as these two realms and means of communication are not separate, nor are they binaries – they instead reveal themselves to be interwoven, enmeshed with the other and increasingly harder to delineate. Each "side" plays a deeply important role in the life of chronic illness. The question becomes how and when do we decide to utilize which mode of communication, and what privileges allow us to have a choice? This piece asks into the complexity of what it means to be a sick human in a digital world.
The Artist
Eve Brown is a multi-disciplinary artist based in Atlanta, Georgia. They are inspired by psychology, the yogic path, Buddhist thought, negative space, non-binary nature, anti-ableism, resisting capitalist structures, and impressionist painters. Brown's experience with chronic illness has impacted and inspired their work, especially provoking thought around what it means to be an artist outside of capitalist modes of production and the ableist expectations placed on artists to produce. Brown's current project explores the paradoxical necessity and tension of the extension of self via social media as a chronically ill human.
Brown holds a Bachelor of Arts degree from Bard College where they studied painting, sculpture, poetry and digital media. Brown also received the Ellen Battel Stoeckel Fellowship to study at the Yale/Norfolk Summer Painting Program. Brown has shown work at the Gadsden Museum of Art where their solo show Life is Like Unpeeling an Onion opened. They have also shown work at South River Art Studios where their collaborative show with Rebecca Rodriguez SHOW/ NAME opened.
*Eve uses Eve instead of most pronouns, though they and she are used at times in this bio 
Image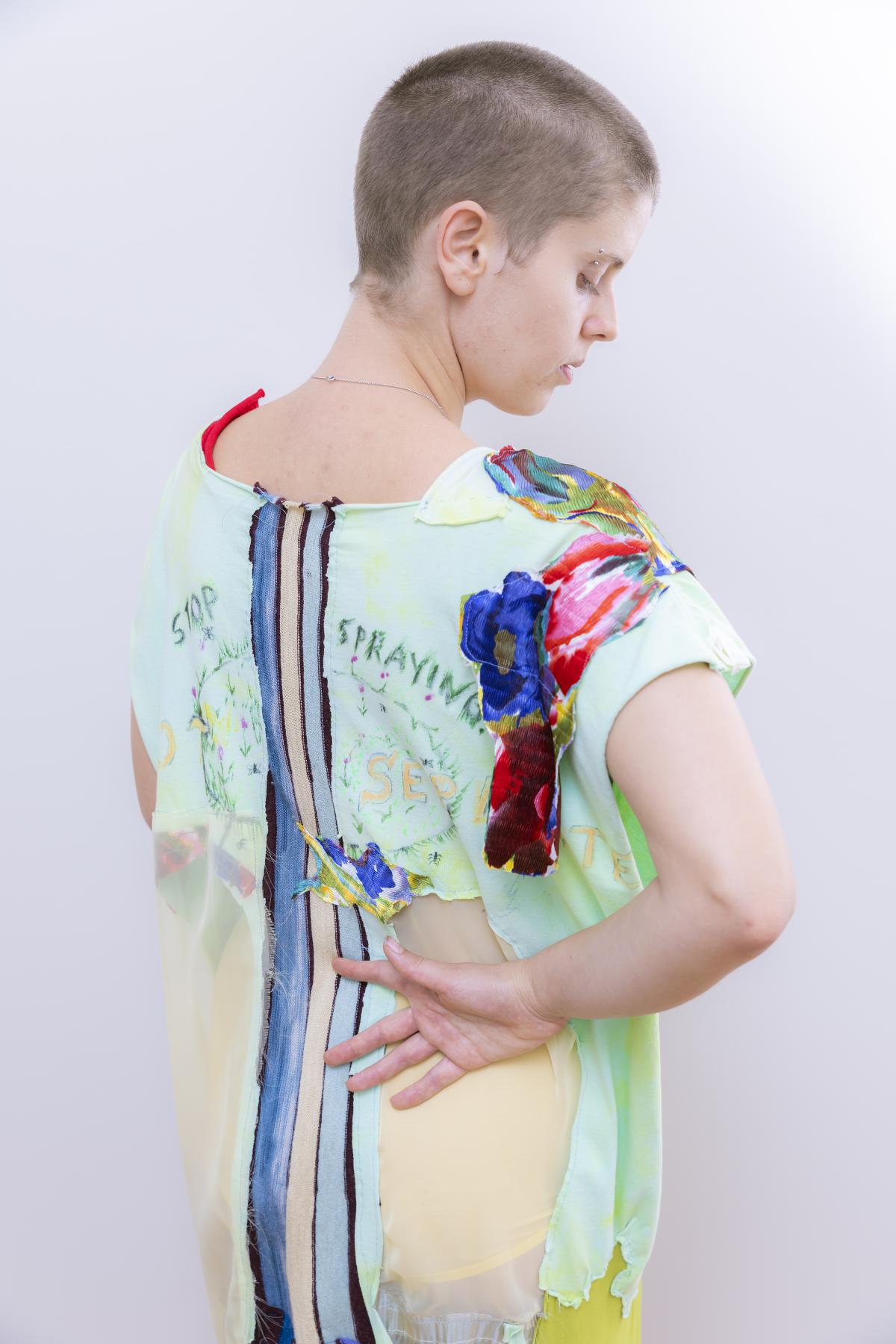 Image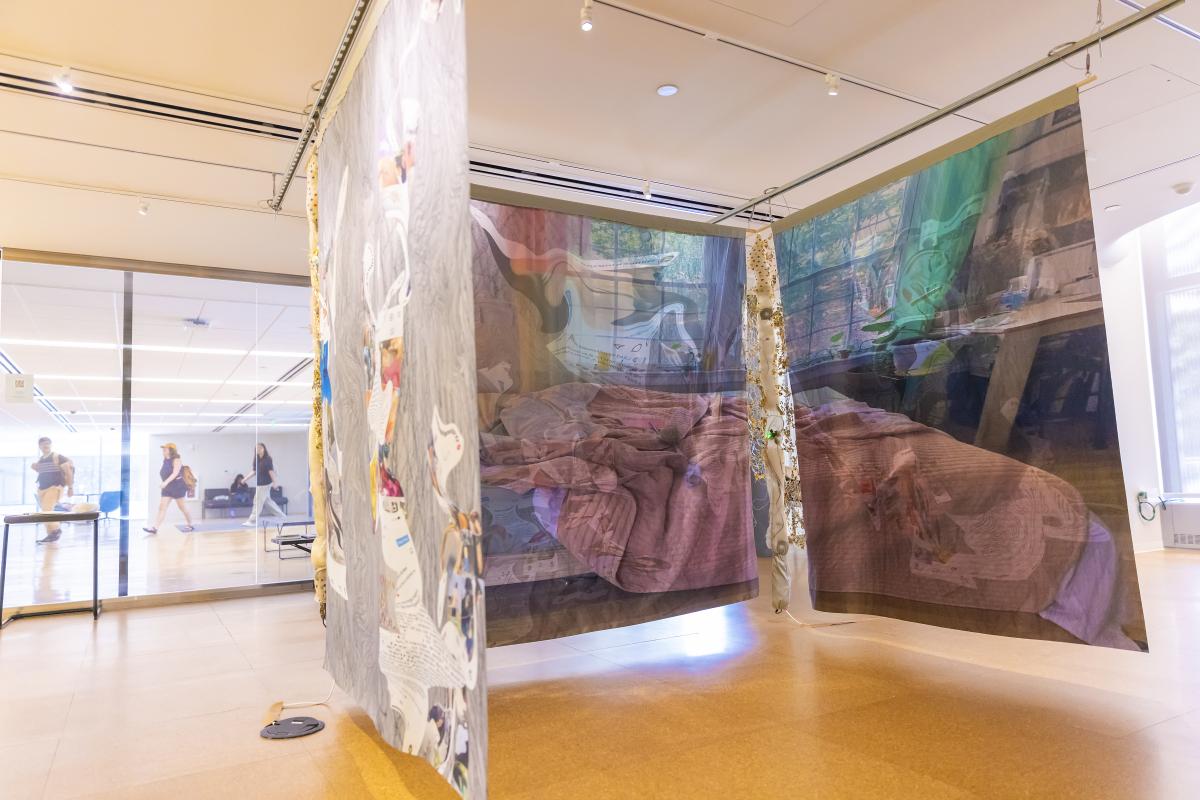 Image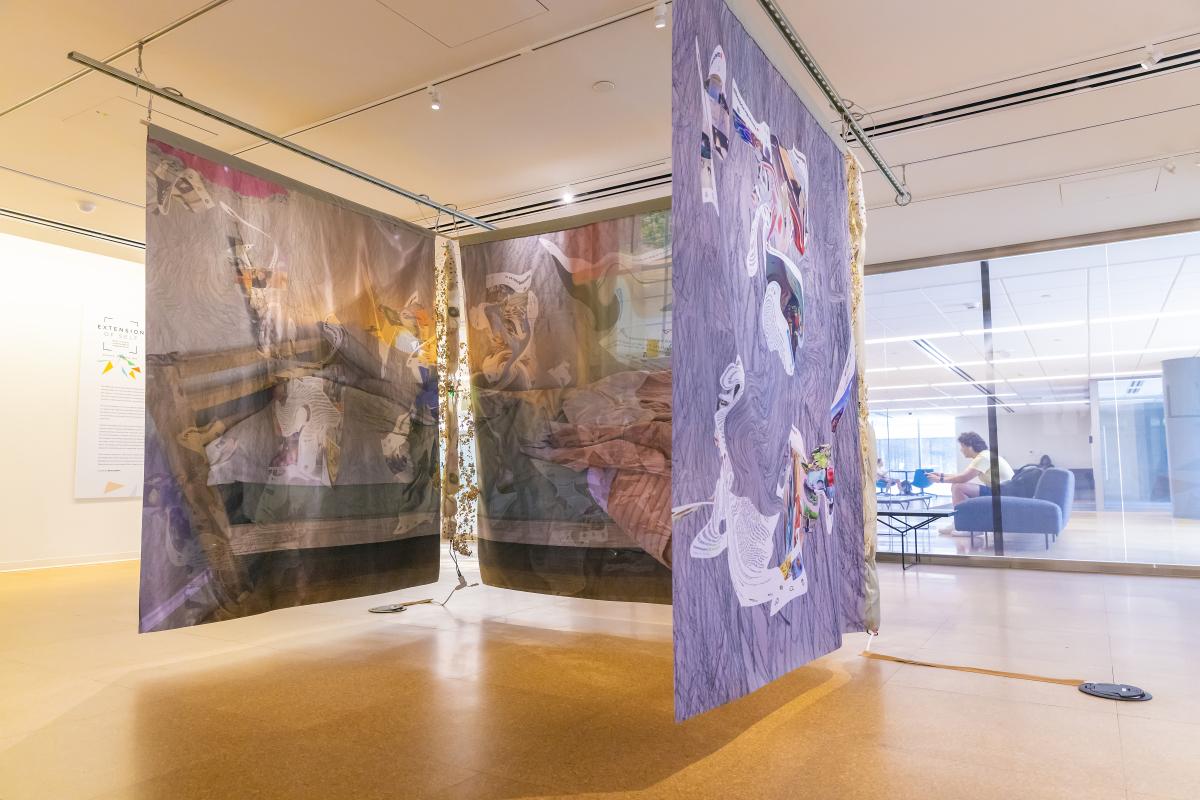 Image